Having to pay taxes is a drag, but I was really careful over the last couple of months to save up for it and ended up a little flusher than I anticipated. I really miss the days of punching in a couple of numbers and then getting back a bunch of money to spend on whatever. Ah, youth.
Anyway, I've been doing some retail therapy to celebrate/drown my sorrows and I thought I'd share them with you!
First up are some short rainboots from Henry Ferrera. I know I cautioned against the thin calf on their taller boot, but I was really excited about the idea of having a short boot for the summer. Having half your leg surrounded by thick, black rubber in the middle of a summer rain storm gets you twice as wet as you should be due to all the calf-sweat. It's true! Enter the
Flexo
: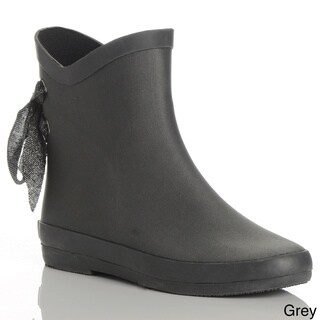 I got the pair in grey from
Ideeli
for about $25, but the link above brings you to a black pair on Ebay for about $41. I love the ties in the back, but I think I'm going to switch out the ribbon for something a bit brighter or patterned. Options! I have a feeling these will get a lot of use over the rainy coastal summer.
***
Next is a Groupon deal I found last week for a longline strapless bra in black. This seems like a really basic, obvious undergarment every woman should own, but somehow I have managed to survive with only nude and white strapless bras. However, since neither one fit me at the moment, I decided to bite the bullet and try this unknown brand's bra. The main thing that sold me on it was that it was actually in my size AND only $22! You can't pass that up!
***
So have you heard about sleep bras? They're like sports bras, but made of soft materials, have padded shoulders, and usually clasp in the front. I've been pretty happy with my
Dr. Rey
sleep bra, but I eventually end up with a uniboob and have to separate the Girls like bickering sisters. While looking around for other kinds of sleep bras, I came across
this
one on Bare Necessities. That website is
always
having a sale, so I ended up getting this one for 25% off!
It looks like there's way more separation happening here than with the version I now have. Since I end up spending half my day schlepping around the house wearing comfy clothes, I really took to the idea of having a comfy bra to wear that actually gave me some support and didn't hurt my shoulders. Before I found sleep bras, I was using a 12-year-old shelf-bra tank from Old Navy. It was pretty gnarly. Progress!
***
Ever since I got the Magical Mystical black faux leather midi skirt from Asos, I've had my eye on crop tops around the internet. Somehow I just ended up back at Asos and fell for
this
optical illusion crop top (got it on sale, girl!). It's got wide straps! And I have the feeling that all those lines will make it a little harder to distinguish just how big my boobs are. It's not that I'm ashamed of the Girls, but taking the focus off them and onto other parts of your outfit/body can be a treat and a relief.
***
StyleMint has been one of my favorite places to buy a more high-end t-shirt for years now, and this next one will be my 10th shirt from them. They sometimes do "mystery sales" where they give you a unique code to put in for a random percentage off your order. Since mine was a respectable 40%, I totally caved and used it. I already have
this
crew neck tee in white, but I guess I forgot I already owned one when I ordered it. Now I wish I'd gone for the dark blue. But on the plus side, I really, really love this white shirt and it's not like I'll never NOT wear a fantastic white tee. Since they do fall a little long on me (like, to the crotch), I may try to hem this one a little shorter; to the hip, maybe?
***
On the other side of the Mint coin, ShoeMint was also having a sale, but just for 30% off everything (including sale pieces!).
These
black and navy leather loafers were just calling my name! I LOVE black and navy together (check the
tuxedo
jacket)! And you just can't go wrong with real leather.Very excited about these.
Also, earlier today I went by Sally's Beauty Supply to get some more color for my hair (I'm too blonde! Yick!), and decided I would stray from my usual pink/coral/peach deal and try something a leetle different: light blue! Springtime-robin's-egg-blue hair for Easter, y'all! So as of this very moment, I am writing at you with a plastic bag and a towel on my noggin. I hope it looks good! I've never done this color or this brand before. More on that later, though! Come back soon now, y'hear?
Happy Easter!